The Sun have managed to embarrass another England international on Monday, revealing that Chelsea forward Callum Hudson-Odoi has been arrested.
According to the front page of the tabloid, 19-year-old Hudson-Odoi was taken into custody by police after a "4am model row".
We should point out at this juncture that it's pretty unclear why exactly Hudson-Odoi was arrested.
The Sun simply say that a woman "called for an ambulance and the police." Why? That's not made clear at all. The tabloid adds:
Paramedics attended early Sunday alongside the police officers who arrested the footballer. The model was taken to hospital after complaining of feeling unwell.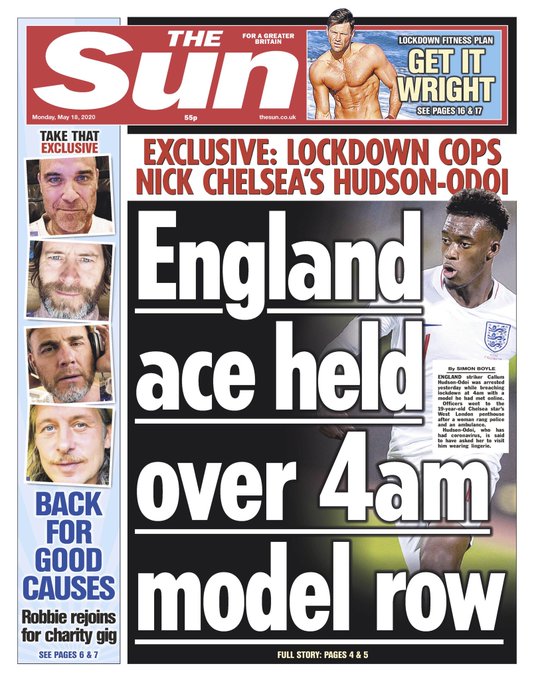 Firstly, there's no semblance of evidence to suggest that the Sun have spoken to the Chelsea footballer, or his representatives, to get his side of the story.
Secondly, the Sun fail to outline whether the police are planning to press charges against the England international.
Thirdly, it's unclear how Chelsea plan to react to the story. Will the Blues even punish Hudson-Odoi?
Lastly, it's worth pointing out that the Sun have kept the identity of the woman at the centre of the story under wraps.
Arsenal manager Mikel Arteta was the first confirmed Covid-19 case in the Premier League.
However, soon after that, Chelsea confirmed that Hudson-Odoi had contracted the coronavirus.
On March 13, Hudson-Odoi posted a video on Instagram revealing his Covid-19 story. He said:
I am feeling perfect. I had the virus which has cleared now.
I fully feel good, I feel fit, so I am feeling back to myself so it is all good.
I had it [coronavirus] three weeks ago now I think, on a Monday when I felt a bit hot.
The next day I was feeling back to normal. I thought it was just a minor temperature thing, but obviously it wasn't.
Culled from 101greatgoals.com