Former Ghana U-20 striker Francis, is currently one of the top players in the Belarusian Premier League following his explosive form for his side Slavia Mozyr in the 2019/20 season.
The former Tema Youth striker has earned massive applauds by football experts in Belarus after headlining major new tabloids with his thunderous performance week in week out and has been speaking in an interview to answer a number of questions.
Below is the Q&A interview of the Ghanaian international who is taking the Belarusian Premier League by storm;
Francis, Slavia fans and specialists recognized you as the best football player in the month of May. What do you think about this?
I want to say thank you to everyone! I am very happy. God sees my hard work
in training and games and leads me further along the path of life.
I am grateful to our fans and those people who are wholeheartedly worried about our team and me personally.
Have you fully mastered the Belarusian championship?
The process is ongoing. But much is already becoming clear and close to me. It's good that there are people nearby,
which help me not to miss my homeland so much.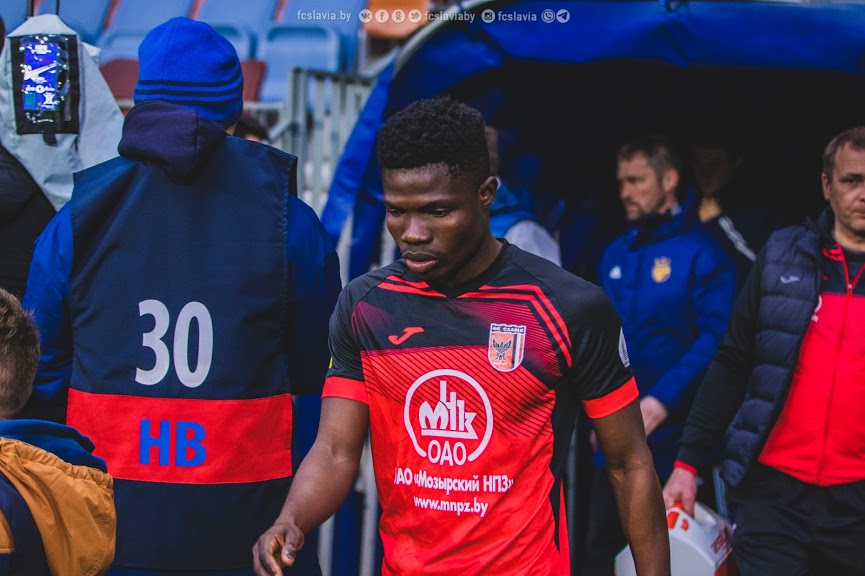 Francis, Ghana – the football nation?
"There is no doubt about it." One hundred percent. And anyone who is related to my beloved country and game will tell you about this.
Do you watch the coaches of the national team of Ghana?
Sure. In our country, close attention is paid to those who played in the youth team. After all, I was a player in the Ghana U-20 team and participated in the final stage
2013 World Cup in Turkey, where they ended up third. I hope I can again wear a T-shirt with the logo of our federation in the official games of the team.
This is the dream of any footballer born in our country.
How did you get the option to continue your career in Mozyr Slavia last year?
At the club, my friend Dennis Tettech was asked about me. He made positive recommendations. The leadership of Slavia came to my agent, and so I ended up in Mozyr.
Have you been thinking about extending the contract this offseason? Were there any other specific options?
It all depended on Slavia. My agent made every effort to continue my career in Mozyr. I don't see any reason to talk about other options. But I will say that they were.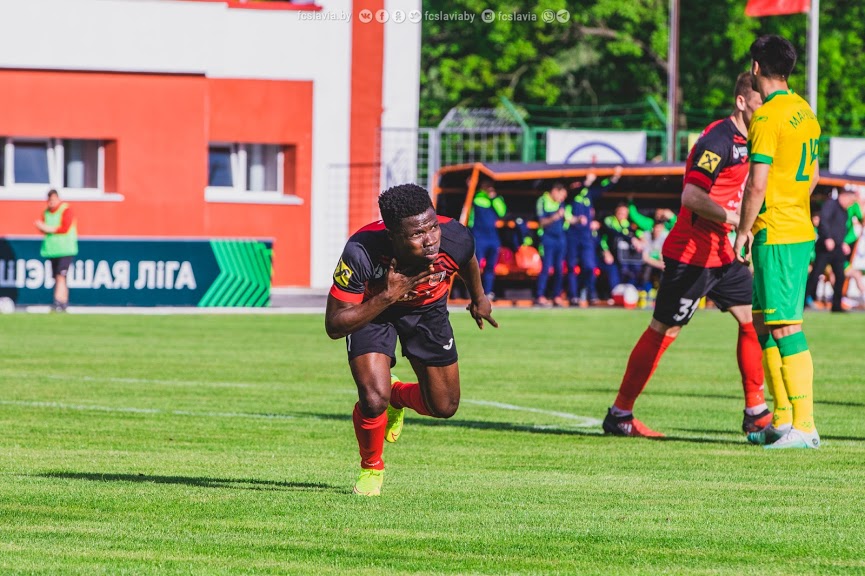 How is life arranged? How do you spend your time?
Life is Beautiful! Everything is simple with me. Home, workout, home. You can rarely see Francis Narh in the city.
Which of the guys do you communicate with most? How are things with the Russian language?
I'm trying to learn the basics of the Russian language. But for me it is very difficult. I already know football terms and something else (note: laughs). In English I communicate with Igor Kostrov
and a little with Sasha Raevsky. They are my translators in the locker room and in the cafe.
Tell me about the family. About how I got into football.
My father was a football player. So we can say that I was born with a ball. Already from the age of five
I started playing good football. Many football experts have noted
that I have talent. I liked messing with the ball.
The main thing is that it turned out well. And now, here I am (note: laughs).
"You have a rich legionary history in your 26 years." Where was it more comfortable? Bulgaria, Czech Republic, Cyprus, Turkey?
I liked everything in Bulgaria. Perhaps I will highlight this country.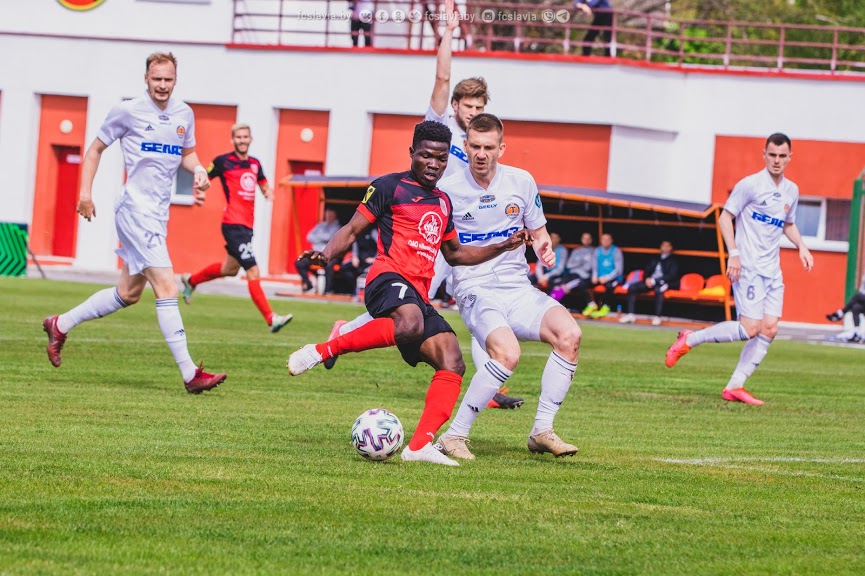 What physical form are you in now? This season, for our club, you spent on the field all 15 official games from bell to bell. Do you feel tired?
"I feel great." Now I am in full bloom.
What place can Slav expect at the end of the championship?
With a favorable set of circumstances, I think that we can be in the top five.
What game, for the time that you spent in Belarus, you remember most.
"Slavia" – BATE in the championship of this year. And in the past – a home game with Dynamo Brest.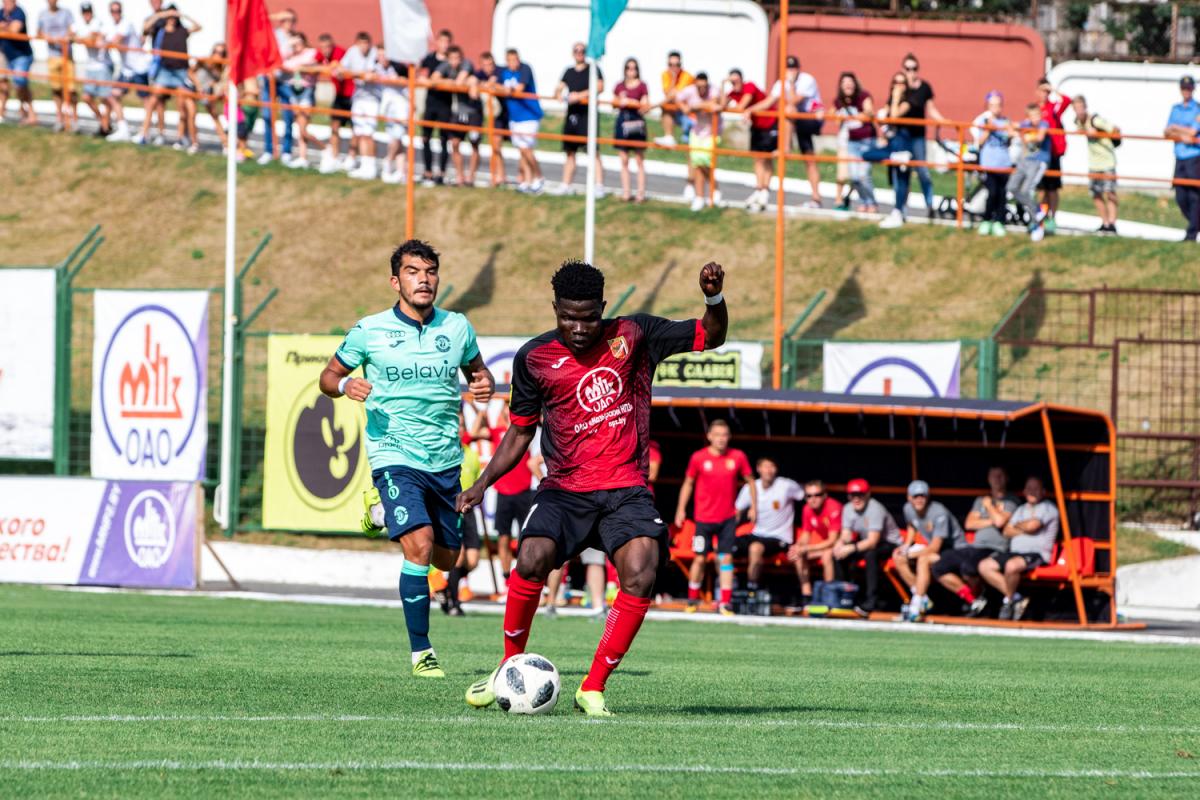 At the moment, do you have any offers from abroad? Maybe someone from the Belarusian clubs came to you or your agent with job options?
Not. Everyone knows that I have a valid contract.
And the last question. When does Dennis Tettech start scoring this season?
Dennis played well at training camps in Turkey. Scored but there was an injury Now he's alright
trying to regain its striking qualities. In the next game with Smolevichi he is going to score.
I will help him. I promise !!!
Credit: fcslavia.by