The Gabonese Football Federation (FEGAFOOT) has announced the international retirement of star striker Pierre-Emerick Aubameyang, at the age of 32 years.
A decision that comes a few months after the controversy during the 2021 Africa Cup of Nations in Cameroon.
Pierre-Emerick Aubameyang turns the page. Five months after a big controversy around his preparation for the African Cup of Nations (CAN) and his absence for the competition, the FC Barcelona striker announces in a letter to his federation that he will not play again for the Gabon.
"After 13 years of pride in representing my country, I am announcing that I am putting an end to my international career" he announced in the press release published by FEGAFOOT.
"I would like to thank the Gabonese people and all those who supported in good and bad times."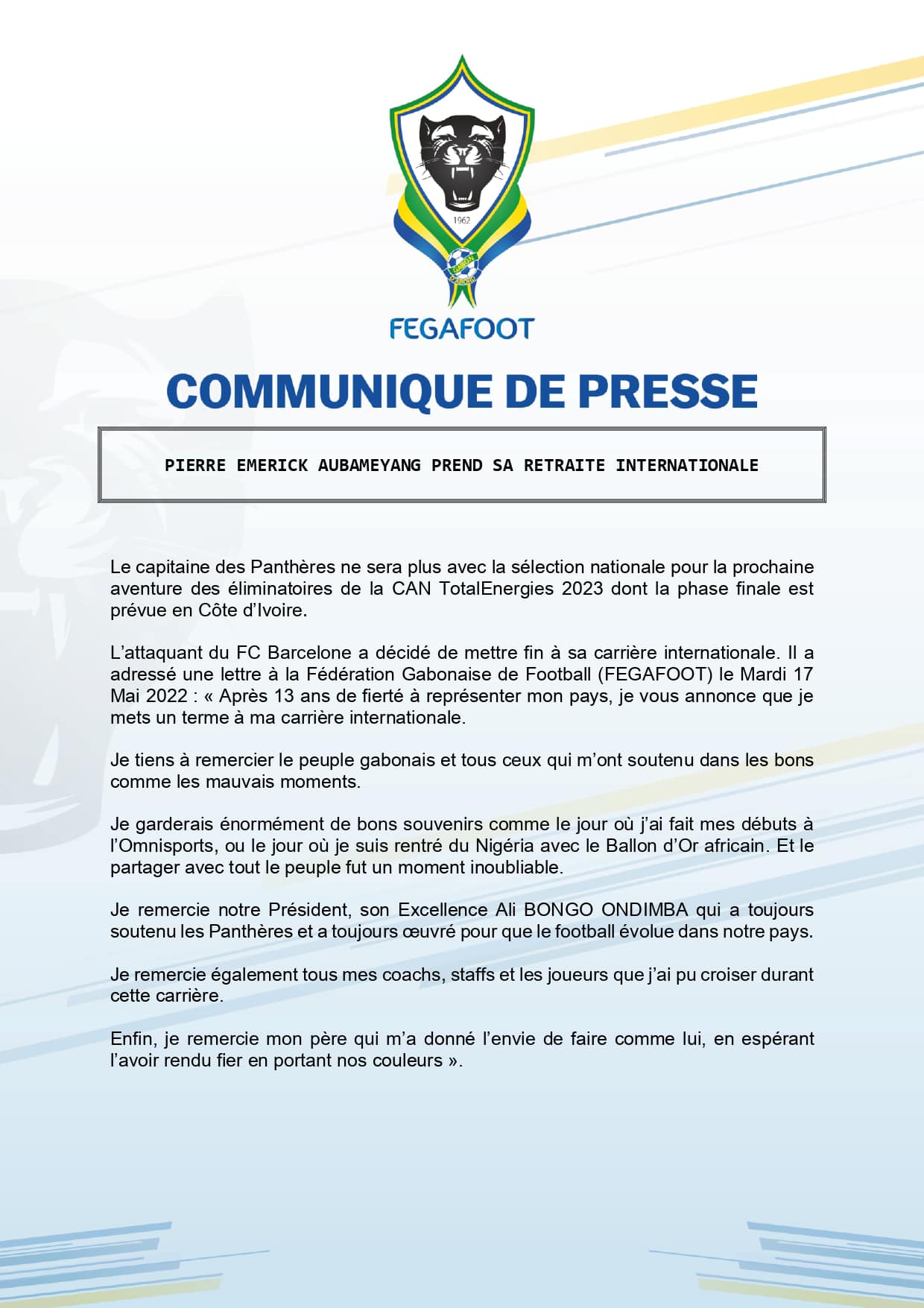 At the beginning of January, he had been seen with Mario Lemina in a nightclub in Dubai a few days before the start of the CAN. The two men had tested positive for Covid in stride. This then prevented them from playing in the competition.
But not from returning to Europe and finding Ligue 1 grounds for the former Marseille player on the day his selection was eliminated. Faced with the controversy, the Nice midfielder announced his international retirement in confusion before changing his mind a few minutes later.
The federation wanted him to continue playing
"The Gabonese Football Federation (FEGAFOOT) hailed the immense career and the regularity at the high level of the one who knew how to sell, thanks to his professionalism, the image of Gabon in the world, is it explained in the press release. Not without recalling FEGAFOOT's wish to see the captain continue the adventure with the Panthers".
Since his first match in March 2009, Pierre-Emerick Aubameyang has earned 63 caps with Gabon, for a total of 29 goals, 10 assists and three African Cups played, the best result of which is a quarter-final in 2012.
His last selection dates back to January 4 against Mauritania (1-1).