Monday nights and great Premier League volleys, eh?
Manchester United fans would recall that unbelievably good Robin van Persie goal which, as part of a hat-trick by the former Arsenal star, sealed their most recent Premier League title on one such night, in April 2013.
Earlier this year, Sky Sports nominated 16 goals, from which fans and readers would pick the greatest of the Premier League era. That contest was won with some ease by Tottenham Hotspur's Son Heung-min, whose solo effort against Burnley last season drew 26% of all votes cast. Son's goal — deliciously garnished by the run that preceded it — was truly remarkable, but it also enjoyed the advantage of recency.
The list, notably, included Van Persie's aforementioned strike, but only two men enjoyed the distinction of being featured more than once. Wayne Rooney — another elite finisher at United, who expertly supplied the assist for the Dutchman's orgasmic crowning touch — was one; the other, from an older generation of strikers with a taste for the spectacular, was Anthony Yeboah.
Yeboah's pair of stunners, in fact, were only two of three nominated goals — the third, by Dennis Bergkamp, a compatriot of Van Persie's, is probably the greatest of them all — from the nineties. The beginning of the 1995/96 season found the Ghanaian forward in truly inspired form. He started the campaign with two goals away to West Ham United — just enough for his club, Leeds United, to secure an opening-day victory.
Next up were Liverpool, still the record English champions, and only five years removed from their last top-flight title. Like Leeds, Liverpool had won their first game narrowly, just two days prior, billing that duel at Elland Road — another Monday night special — as, essentially, a top-of-the-table clash, albeit rather early in the season. The goal that settled the game, from Yeboah, came minutes into the second half and was scooped from depths that not many Premier League players have managed to reach.
Not many saw it coming.
Not when Leeds defender Tony Dorigo knocked the ball long, high, and hard to the edge of the Liverpool box. Not when Rod Wallace headed it, seemingly into space. And not even when Yeboah — that net-busting, finger-wagging phenomenon who stunned English football for a little while — ran unto it and swung, to devastating effect, his right foot.
His weaker foot, they say.
What followed was, well, a blur — as much to observers as to the man it flew past. Credit to Liverpool goalkeeper David James for producing a decent dive in attempting to reach a shot conjured, literally, out of nothing. In hindsight, though, the future England No.1 might have had an easier time remaining rooted to his spot and taking in the goal, in all its enchanting beauty and wonder, like the 35,000-odd spectators in attendance.
"I hate that goal," James conceded in a 2015 Premier League interview.
That goal, like the Hertfordshire-born's veiled compliment, came right out of the top drawer. And, for Yeboah, it held even greater significance.
"It was very interesting because before the game there were rumours that Leeds could not score Liverpool so there was tension in the game," Yeboah told Asempa FM in July this year.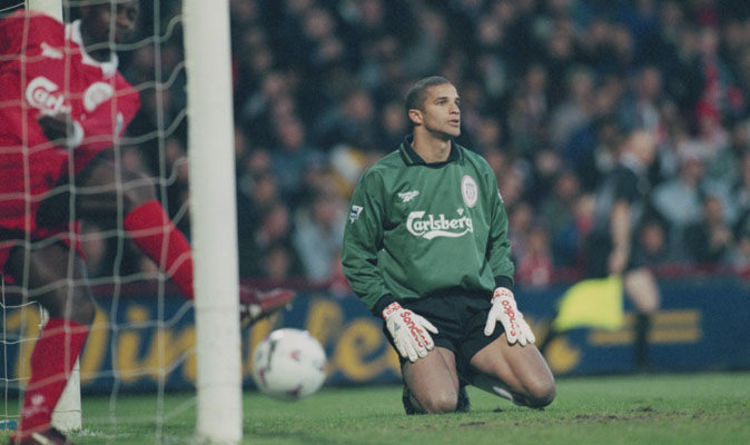 "I was also a Liverpool supporter so I was anxious meeting the top players in Liverpool. I had decided before the game to show my prowess so I thank God for making me score a fantastic goal."
Thirty-three days later, Yeboah would push the boundaries of reality a little wider, with a second consecutive Goal of the Month winner on a wild weekend at Wimbledon. It wasn't exactly a replica — more like a contender — but if anyone could tell which was the better goal, it's certainly the scorer himself.
"[The goal against] Wimbledon was all about control and if we're talking technically, that is probably the best goal," Yeboah said in an interview, years later. "But it's about feeling and emotion as well, no?
"So it's Liverpool. That was the one."
Right, Tony.
Damn right.
Come Saturday, Liverpool and Leeds — eager to kick on after gloriously ending forgettable eras last season as champions of England's top two divisions, and managed by two of the Premier League's finest minds — clash at Anfield on the 2020/21 season's opening day. It may well be a thriller, with sparks expected to fly here and there, but this fixture's ceiling – raised so high by Yeboah's sparkling, quarter-of-a-century-old showstopper – will take some beating.
Source: NY Frimpong — Daily Mail GH